Representative Dan Huberty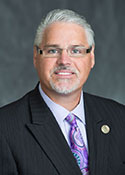 Texas PTA's Legislative Advocate of the Year must be an elected official working on state policies who is a past or present supporter of PTA legislative priorities and a frequent champion of Texas students. Additionally, those honored should stand on a record that demonstrates initiative in one or more of the following:
Enhance the quality of life and education for children and youth.
Strengthen families.
Improve child safety standards.
Lend significant support to a current Texas PTA priority.
Work with leadership to overcome obstacles to legislation.
During the 85th legislative session, Texas PTA recognized the Honorable Dan Huberty (R-Houston) as its 2017 Legislative Advocate of the Year. In his first term as chairman of the House Public Education Committee, Huberty filed more than 25 bills supporting Texas children. Over the past several months, he:
Worked diligently, even into the last hours of session, to pass school finance reform,
Fought hard against vouchers,
Successfully passed improvements to the school accountability system,
Co-sponsored the Individual Graduation Committee extension that allows IGCs to continue for another 2 years, 
Filed legislation for students with autism through a public education grant program as an alternative to special education vouchers,
Passed legislation creating an early childhood educator certification program.
 "We are thrilled to present the 2017 Legislator of the Year Award to Representative Dan Huberty," said Texas PTA President Lisa Holbrook. "As a former school board trustee for Humble ISD, he truly understands the public education environment and embraces that understanding in all of his decisions in his role as an elected official for the state of Texas. We applaud his courage and convictions."