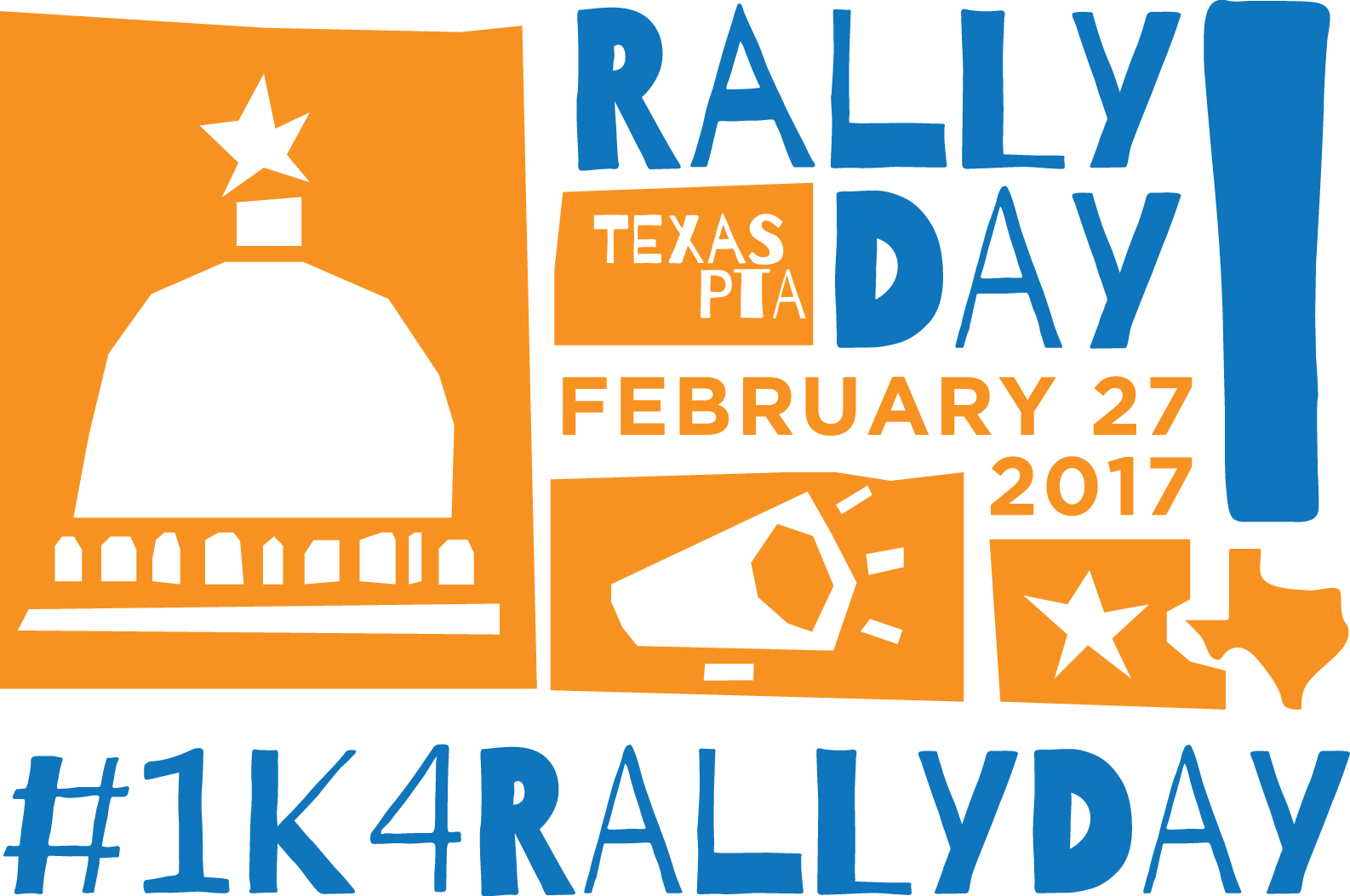 A critical difference between PTA and other parent groups is our dedication to advocacy. Public education is our one guarantee for a brighter and better Texas.
Each legislative session we hear about the need to improve public education, and history shows that following the conclusion of every legislative session, we all express our dissatisfaction with the results and wishing we had done more. By attending Rally Day, we are letting our PTA voices be heard and taking action while decisions are being made rather than afterwards when nothing can be done.
Attending Rally Day is an investment of your time and resources that, frankly, Texas students cannot afford for us to overlook. See you on the South Steps!
RSVP here to let us know we will have your voice at Rally Day!
What to Expect
8:30 am - 9:30 am Doors Open and Check-In
9:30 am - 11:00 am Priorities Caucus*
9:30 am - 11:00 am Student Caucus**(Location change! See below!)
11:30 am - 12:00 pm Rally on the South Steps of Capitol
12:00 pm - 5:00 pm Legislative Visits and Time for Lunch
* Due to space considerations, the Priorites Caucus will be held at First United Methodist Church. (1201 Lavaca)
** Student Caucus will be held at St. David's Episcopcal Church. (301 E. 8th) Following the caucus, students will join the other PTA members at the front gates of the Capitol for the Rally. Texas PTA staff, along with local chaperones, will guide student attendees from St. David's to the Capitol. (Approximately three blocks).
Parking Information
Bus: Buses can pick-up/drop-off at the Capitol and park on Trinity Street near Waterlook Park. View a helpful map here. Please note: Buses are prohibited on Capitol drives.
Car: If you're coming by car, parking is available in the Capitol Visitors Parking Garage located between Trinity and San Jacinto Streets at 12th and 13th streets. Parking is free for the first two hours and $1.00 for each half-hour thereafter (maximum daily charge: $12.00). Metered spaces (cost: $1.25/hour) are available throughout the complex.
St. David's: There is NO PARKING available at St. David's Episcopal Church
How To Prepare
Join Texas PTA President-Elect Sheri Doss and Ellen Arnold to help make your Rally Day experience the best it can be!
Webinar 1: Planning for Rally Day
What is it and how do I plan for it? Get details about this biannual event and how to plan for your PTA's participation with maximum success.

Webinar 2 : The Policy Issues
Become informed about Texas PTA's Legislative Priorities and get tips for the day.

Webinar 3: Meeting with Legislators
Legislators are accountable to community members, and that includes Texas PTA members. Learn how to identify your legislators, make an appointment and prepare for a successful meeting. What you say and how you say it can make a huge difference for Texas students.
Distinguished Speakers
Texas PTA President
Lisa Holbrook
Rally Speaker &
Priority Caucus Speaker

Texas PTA President-Elect Sheri Doss
Student Caucus Speaker



The Honorable
Carol Alvarado
State Representative
Priority Caucus Speaker



The Honorable
Trent Ashby
State Representative
Priority Caucus Speaker



The Honorable
Harold Dutton
State Representative
Student Caucus Speaker

The Honorable
Donna Howard
State Representative
Rally Speaker

The Honorable
Dan Huberty
State Representative
Priority Caucus Speaker

The Honorable
Jose Menendez
State Senator
Priority Caucus Speaker

The Honorable
Ina Minjarez
State Representative
Student Caucus Speaker

Cliff Molak



Student Caucus Speaker

Superintendent
Dr. Jeannie Stone
Richardson ISD
Rally Speaker




The Honorable
Royce West
State Senator
Rally Speaker