Lead Like Marni Award
Application Period: February 1 - April 1, 2023
Click here to nominate a leader!
About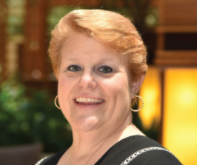 Marni Kaner was a dedicated and passionate PTA volunteer for more than 20 years. She was well known and well loved throughout the state for her innovative ideas, no-nonsense advice, warm heart and radiant smile. Countless PTA leaders benefited from her support and counsel. Her trainings were can't-miss events, but most of all it was Marni's encouraging words and abundant enthusiasm that we will always remember. She had a constant commitment to growing membership and made sure everyone knew the value that PTA brought to their campuses, communities and the state of Texas.
Created in 2021, the Lead Like Marni Award recognizes volunteers across the state who lead like Marni did. These are leaders who are passionate about our mission, welcoming and encouraging to all, and always ready to face a challenge head on with grit, resilience, and humor. They are leaders who are lifelong learners who don't hesitate to share that knowledge with others. They are innovative, creative, and their positivity makes them a joy to be around. Their compassion and humility make them someone others trust and rely upon. These leaders are well-rounded and love to see others succeed.
Do you know a PTA volunteer who leads like Marni did?
Each year, Texas PTA accepts nominations for our Lead Like Marni Award to recognize deserving leaders from elementary, secondary, and council PTAs.
Click here to nominate a leader!