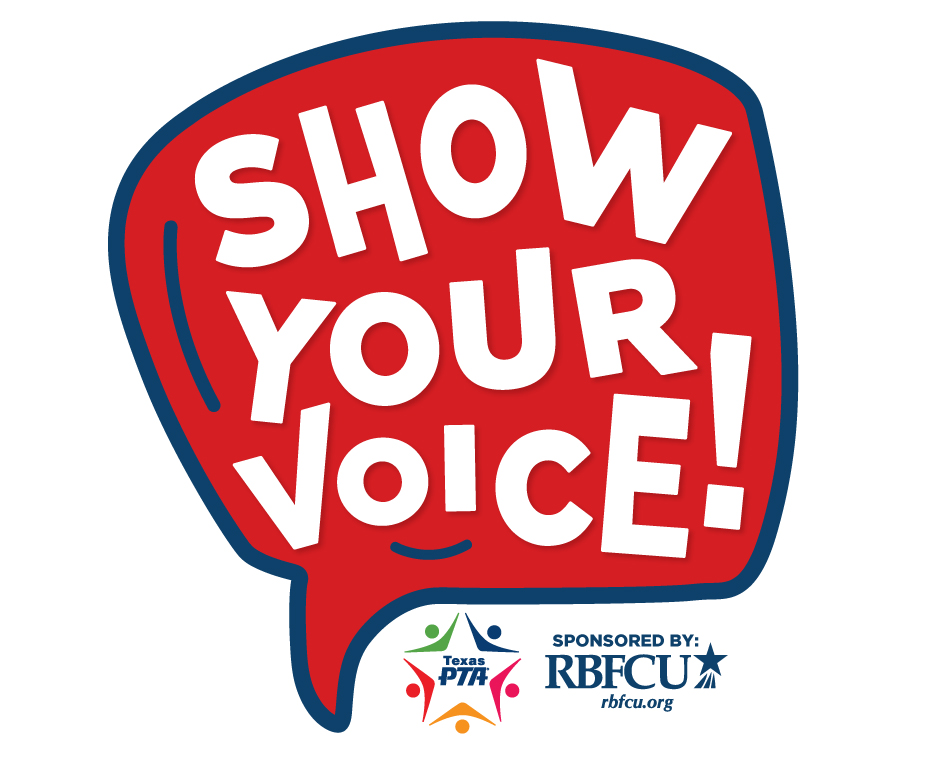 Students receiving an Honorable Mention, Award of Merit, Award of Excellence or Overall Award of Excellence will be presented with an award by Texas PTA President Suzi Kennon. The ceremony will be held Saturday, April 29, 2023, in the RBFCU Auditorium located inside the RBFCU Corporate Building. Photos will be taken by Lifetouch Photography and made available for digital download at a later date.
RSVPs are requested no later than April 10, 2023. Please let us know as soon as possible if you are able to join us or if we should mail your award(s). Students unable to attend will receive their award in the mail over the summer. Please note that only students who confirm their attendance by April 10 will have their entry digitally displayed at the ceremony.
Ceremony times are divided by student last name. As we approach April 29, Texas PTA will email attendees a better estimate of when student(s) will walk across the stage. Please arrive 30 minutes prior to your ceremony time to allow for a quick drive-thru check-in.
Ceremony Times
Student Last Name A - G
Walk-through ceremonies
10:30 AM - 12:00 PM
Student Last Name H - O
Walk-through ceremonies
1:00 PM - 2:30 PM
Student Last Name P - Z
Walk-through ceremonies
3:30 PM - 5:00 PM

Attending the Ceremony
When arriving at RBFCU, follow signage for Employee Entrance Gate C and follow directional signage towards the drive-through check-in. During check-in, you will be added to a waitlist app so that we can text you when it is time for your student's ceremony. Your family will remain in the car until it is your turn to enter the building. Bathrooms will be available inside the building at any time.

What to expect:
Families will be ushered into the building at a steady rate.
Families will stay together until it is time for their student(s) to make their way on stage.
Everyone will remain standing. Families will walk towards the front center of the auditorium to stand center with the stage.
The awarded student(s) will walk across the stage while their family is watching from the audience.
The student(s) will pause for pictures with the Texas PTA President center stage, then reunite with their family.
Families will exit the auditorium together. There will be another photo opportunity in the lobby.

Optional:
If your family would like to sit in the auditorium to watch other students receive their awards, you are welcome to do so. Please be considerate to the other students receiving their awards when entering and exiting the auditorium. When your family receives the text that it is time for your ceremony, the student and at least one adult will need to exit the auditorium and check-in with the staff member at the front doors.

Parking and Directions
When on N Loop 1604 E Access Rd, proceed through Entrance C and follow signs for the ceremony check-in. Texas PTA will have a drive-through check-in setup under some tents. Please drive up to the next available staff member to add your family to the waitlist. Once on the waitlist, proceed to any available parking spot.
You and your family have a few options while you wait for your ceremony.
You can remain in the car until you receive a text alerting you that it is time to enter the building.
You can wait near the entrance by the flags and benches.
Or sit in the auditorium to watch other students receive their award.
Bathrooms will be available inside the building at any time. If you have any questions during the ceremony, a volunteer will be able to assist you.

Accommodations
RBFCU recommended the below hotels. You can also try to mention you will be visiting RBFCU to see if they will give you a discounted rate (this is not guaranteed and depending on hotel occupancy levels).
Hilton Garden Inn Live Oak
8101 Pat Booker Rd
SA, TX 78233
Towne Place Suites- Selma
15510 1-35
Selma, TX 78154
Staybridge Suites- Schertz
5601 Schertz Parkway
Schertz, TX 78154
Although rates may look desirable, it is recommended guests not stay at Hampton Inn Selma and Holiday Inn Selma
Nearby Attractions
View the 2022-2023 Visitors Guide
REAL EXPERIENCES. TRUE ADVENTURES. AND OVER 300 YEARS OF HISTORY!
Visit a city rich in history and booming with modern attractions. San Antonio invites you to be inspired, be curious, and be hungry. Walk, bike, hike and play through our spectacular parks, gardens, and outdoor spaces. Experience our historical significance through tours, festivals, and seasonal events. Shop, drink, and dine at local favorites across our diverse neighborhoods. San Antonio has it all – and we are ready to welcome you! Build your plan for things to do in San Antonio and get inspired to discover new sites, attractions and more!