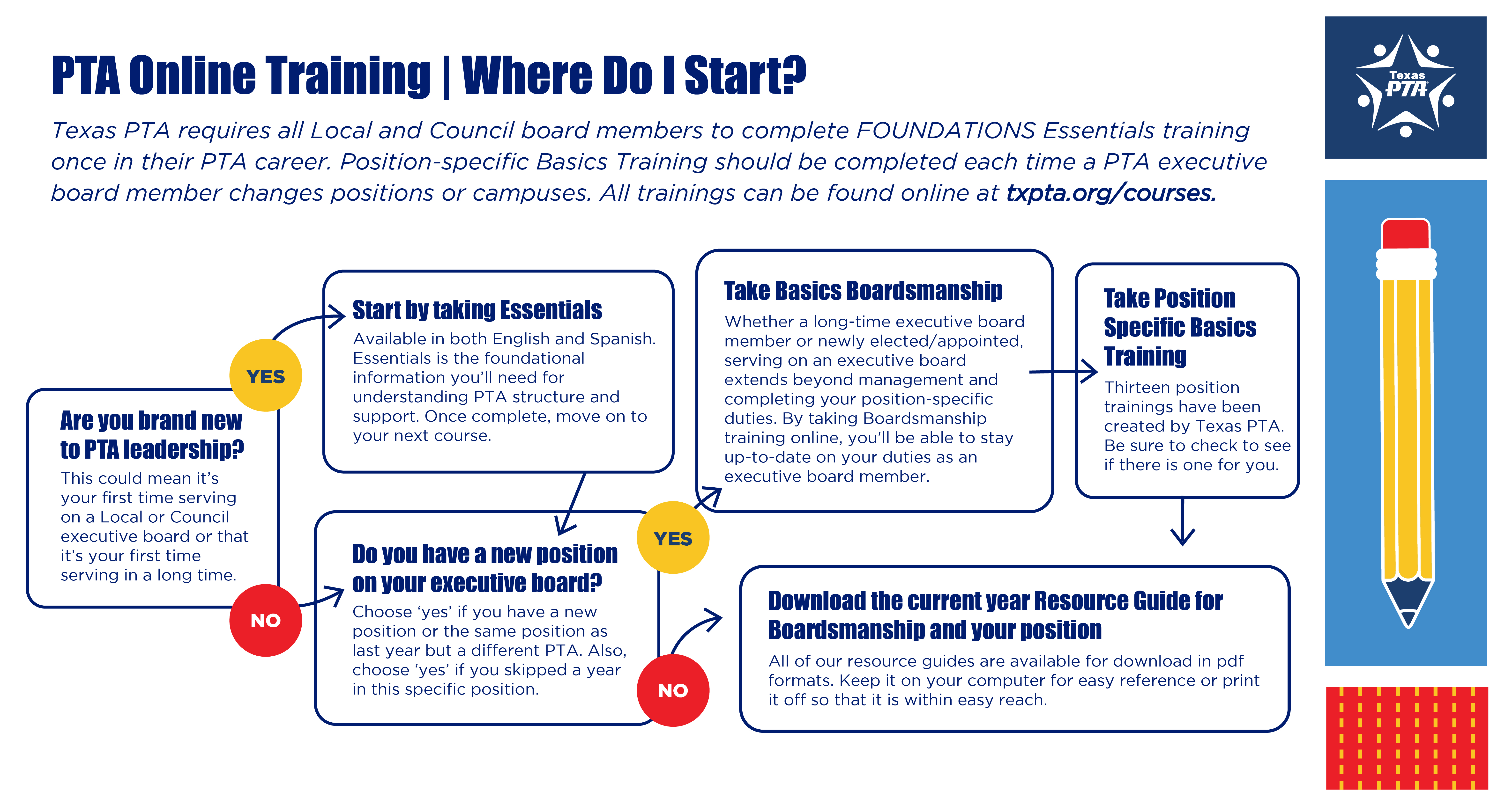 Texas PTA is a strong network of volunteers in schools across the state — working not only for their communities but for all public school students in Texas. Leadership roles within PTA are vital to each Local PTA's success. To ensure that our leaders are equipped for the job at hand, Texas PTA provides an online learning portal with many courses available at your leisure.
Each PTA Executive Board member has two Texas PTA training requirements. FOUNDATIONS training (Essentials and Basics) can be completed online and should be taken within 30 days of election or appointment.
Available courses may be accessed via the orange buttons at the bottom of this page.
* Access the Local Roster Here!
FOUNDATIONS Essentials
FOUNDATIONS Essentials (formerly named FOUNDATIONS Leader Orientation) is available NOW in both English and Spanish.
FOUNDATIONS Essentials is an introductory course for new PTA Leaders. All board members are required to complete it only once in their PTA service, and there is a $10 fee to access the course material.
Essentials is only offered online through Texas PTA and can be accessed via the buttons at the bottom of the page.
PTA Leaders have 14 days from the date of registration to complete the course. Allowing the 14-day window to lapse will result in additional registration fees.
There are 8 questions at the end of the course which must be answered correctly to receive a certificate for the training.
Once complete, PTA Leaders may access a completion certificate to be provided to their PTA secretary. A copy of the completion certificate will also serve as your receipt for reimbursement. It displays the attendee name and date of completion. The registration and reimbursement amount is a flat $10.
FOUNDATIONS Basics
Texas PTA offers the Basics series of resources to assist PTA Leaders in fulfilling their board duties. Visit Local PTA Leaders to access recorded webinars for each of the Basics courses.
While the bylaws state new board members must complete FOUNDATIONS requirements no later than 30 days after election or appointment, it's important that all PTA Leaders complete the training during their first year of service, regardless of the date. If you have any questions, please contact the Texas PTA Leader Engagement Team.
To re-watch courses you have finished, enter the training portal through "View Course History."